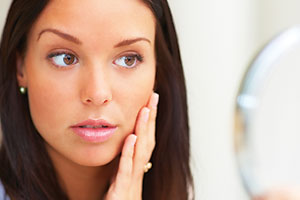 Are you doing enough for your skin? Maybe you think your doing all the right things and quite possibly your not. This quiz will help you decide if your doing too much, or maybe too little for your skin. Here were my results. It really made me realize what I'm doing wrong.
Your Wrinkle-Fighting Rx:
Step 1: Cleanse
-- You generally don't cleanse too often (twice a day is plenty) and your skin is relatively cooperative, but just like most of us, you're not immune to bad-skin days. Use a hydrating cream formula (like
L'Oréal Paris Advanced Revitalift Radiant Smoothing Cream Cleanser, $6.99
) to help exfoliate and smooth skin. Exfoliate once a week with a gentle scrub to really slough skin and promote cell renewal.
Step 2: Moisturize
-- To avoid "mood swings" in your skin, stick to the same products daily without switching it up too often. After cleansing, slather a good, rich moisturizer on your face and neck and hands, which also show wrinkles as we age. (One that TotalBeauty.com readers love is
L'Oréal Paris Advanced Revitalift Complete Cream SPF 18, $15.99
.) Forego the SPF cream at night for an anti-aging treatment instead. Step 3: Treat and protect -- Give wrinkles and newly surfacing fine lines a dose of extra attention with a concentrated treatment of anti-aging wonder retinol (or Vitamin A). (Try
L'Oréal Paris Advanced Revitalift Anti-Wrinkle Concentrate High Potency Serum, $13.50
.) P.S. Since retinol can make your skin more sun-sensitive, now is as good a time as any to increase your daily SPF levels.