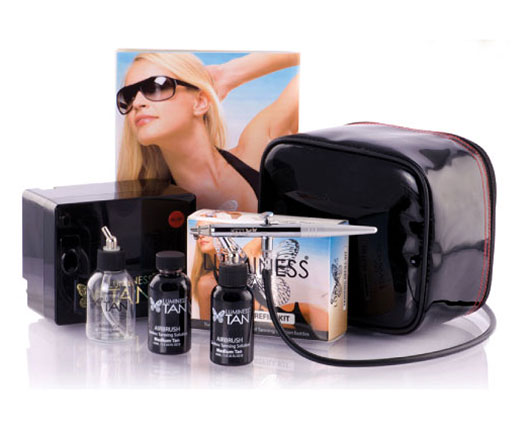 So you all know I've been searching like crazy for the perfect tanning product that won't make me orange, greasy or splotchy. I've also been searching for a tanning kit that won't smell or fade away in a couple hours. I've crossed tanning beds off of my list ever since I was diagnosed with melanoma on my arm. Lotions tend to leave streaks and smell bad. Well I think I've finally found the perfect flawless tanning kit. This is about as good as you can get without spending the money at an actual spray tan salon.


Luminess Tan is an at home, spray tan system. Luminess Tan will get you the perfect tan just like at the salon, at a fraction of the cost.

"Because so little is known about airbrush tanning, it is easily confused with spray tanning. Airbrush tanning is the ultimate way to apply the smoothest, most natural lasting sunless tan. The secret is in the exact control application, which provides the most flawless results.
Our high performance tanning system has two major components. First, Luminess Tan™ features our highly innovative airbrush body application system. Do you know that Luminess® is the #1 brand in airbrush beauty and perhaps the largest manufacturer of personal airbrush systems in the world? Our technology is based on the principles of great results, ease of use, reliability and value. The airbrush system is comparable to those used in high end tanning salons & spas. Please don't confuse airbrush tanning to misting booths, which are extremely messy.
The second component of Luminess Tan™ is our highly innovative tanning solution. The formulation features both an instant bronzer for immediate color and tanning actives designed to physically darken skin. Our formulation features dihydroxyacetone (DHA), which is approved by the FDA for external use. "




Get the perfect tan in 5 easy steps -



A complete airbrush tan all over your body takes about 30 minutes (25 minutes to apply your airbrush tan and 5 minutes to dry). Spot tan legs, arms, shoulder and chest for a radiant healthy glow in minutes! Luminess Tan™ leaves no orange discoloration on your skin. Get that "Back from the islands," Beach Beautiful tan that lasts up to 14 days.
I have to admit, when I first saw
Luminess Tan
on HSN, the process of airbrushing scared me a little. It sounds complicated, messy and hard to use. Surprisingly, I set it up pretty easily, and as long as you read the instructions, the results are amazing. My first time I got a great tan, looks very natural. A DVD Tutorial comes with the kit, which gives you easy tips on how to use the airbrush correctly so you look even and not splotchy. I messed up on a small area of my leg where I have a birth mark. Other then that, it looks like I've been in the sun for the last week!! Check out my fabulous tan!!
Luminess Tan will also soon be coming to Ulta, so you can not only purchase your Luminess Airbrush Kit at their store, but you can purchase the refill bottles there as well. (I'm already purchasing my 3rd and 4th bottle!) Luminess Tan is FDA approved, and up to 700 % more powerful then your typical self tanner. I highly recommend Luminess Tan for everyone who is looking for the perfect tan without the harmful UV rays. Luminess Tan is my new favorite tanning tool.


Buy: You can get a 30 Day Trial Offer - or purchase your Luminess Tan on their website.


Luminess Tan is also on Facebook

I received product for the purpose of this review only. All opinions are my own. No monetary compensation was exchanged.