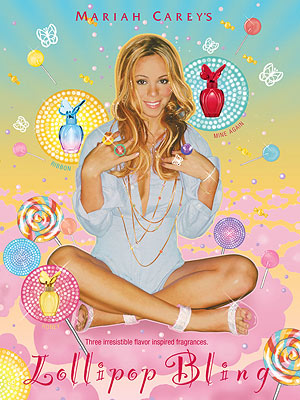 It was recently announced that singer Mariah Carey will welcome another fragrance to her perfume family. The new scent's name? Lollipop Bling. "The inspiration for Lollipop Bling was Nick's marriage proposal to me," Carey said in a release. "He first surprised me with a ring-pop — romantic, fun and young-at-heart — like me!"
The three fragrances, launching next month, are named after Carey's songs "Ribbon," "Honey" and "Mine Again" and each boasts notes of candy-inspired flavors like raspberry and chocolate.
Carey's husband, Nick Cannon, appeared on "The Oprah Winfrey Show" last September and told the story of how he proposed back in 2008. He presented Carey with a Ring Pop (!) and when execs at Elizabeth Arden Fragrances heard the story, they decided this would be a great theme for their next collaboration with the songstress. Elizabeth Arden has been developing Carey's fragrances since 2007 and they've topped well over $150 million in sales. Print advertisements for Lollipop Bling are set to hit the August issues of top publications like Elle, People StyleWatch and Cosmopolitan and will feature Carey wearing three Ring Pops (and, we presume, her new scent.)
Carey and Cannon have been busy denying pregnancy rumors as of late. Cannon joked on his radio show, that if and when they decide to have children, they'll be turning to George Foreman for name inspiration. "We're gonna name all of our kids Mariah - no matter if they're boys or girls. ... Mariah No. 1, Boy Mariah, Man Mariah, Tall Mariah. It's gonna be a house full of people named Mariah," states Cannon. He added, "My wife has been in this business for a long time and dealt with so many things, she knows how to handle herself. She's a very, very strong woman, probably the strongest woman I know, and I love her dearly. So, when she tells me something, I'll tell y'all, probably after I tell my mama."
Will you try Mariah Carey's latest fragrance? What do you think of the name?
{Post taken from totalbeauty.com}