I am on a total self tanning kick lately. I think I've finally mastered the skill that it takes to apply it correctly. And trust me, skill is needed! I finally have the correct tools that I need to create the perfect tan (I will post these tools at a later date) However I still haven't found the perfect tanning lotion or spray. Biggest concern? The smell! It's hard to find a tanner that doesn't smell bad. And if you're a self tanning freak like me, you know what I'm talking about.



Beautisol "Need I Glow More" ($26) is a facial self tanner that comes in two different type (Dry and oily) I applaud Beautisol for creating two different types for different skin, I think all companies should do this.

■Groundbreaking Pure Scent odor eliminating fragrance technology reduces the unpleasant processing odor by up to 80%.
■Ingredients such as Montmorillonite Clay, Lilac Cell Culture Extract and Niancine help absorb oil, improve acne, reduce inflammation and purify the skin.
■Immediate bronzing effect allows you to see where you applied the product and where you missed.
■Natural resulting color due to the use of an innovative, patented DHA also helps to prevent oxidative stress.
■Paraben-free, propylene glycol-free, and cruelty-free (PETA certified).
■Antioxidants and anti-aging ingredients help nourish and hydrate the skin.







"Need I Glow More" comes with detailed instructions on how to apply, because many people do not know how to use self tanners, especially on the face. Using it wrong could result in streaks, splotches around the eyes and nose, or lines around the hairline. I "somewhat" followed the instructions, I never advise people to use their hands to apply a self tanner. Instead, and this will be a "teaser" to my upcoming post, "How to self tan" use a kabuki brush, like the one seen below. You will get flawless natural looking results.




This is a Genie Kabuki Brush that you can for around $20. Any kabuki brush will do, simply apply the tanner as if it was a foundation, making sure to get it right up to your hairline and focus closely on the jawline as well. Applying at night works best for me, because then you wake up, shower right away, and your color will last. I like that the the "Need I Glow More" shows the color you will develop immediately instead of later, so you can tell if you've applied too much or too little in one specific area.

I used Beautisol's self face tanner 3 days ago, and my face still looks deeply bronzed. It doesn't look fake or orange, it looks very natural. I won't flake or peel off, but to ensure a perfect tan, you want to always exfoliate before using. There is no tan smell, my only problem is that I don't have the body tanner to match. That is my next purchase, and I can't wait to try it out. Before using this face tanner I was using Too Faced Tanning Bed in a Tube Facial Tanner which is just ok. It doesn't come CLOSE to this one.
Buy: You can purchase the "Need I Glow More" in oily or dry skin tone for $26 at Beautisol.com I am highly impressed with this product, it is now my favorite facial tanner. I've been racking my brain trying to find one negative, but there is nothing bad to say. They offer a 100% money back guarantee if you don't absolute love the results, which always gives me comfort when purchasing something, especially a beauty product. I love Beautisol's Need I Glow More in oily, and I will continue to use it all throughout the summer. For a 20% off discount use coupon code BELLASBSB at checkout.
The Giveaway: One winner will their choice of Dry/Oily Beautisol Self Tanner. ($26 value) To enter you must be facebook fan of Beautisol, make sure you leave a comment on their wall telling them Bella's Beauty Spot sent you. (This is mandatory, and your entry will not be considered if you don't complete the mandatory entry)
For an
Extra Entry
(1 each) follow me on Google Friends,
Blog Luvin
,
Facebook
or
Networked Blogs
. Also grab my button or add me to your blog roll for an additional entry
- You can also tweet this Giveaway up to once a day! (Make sure you follow me on Twitter)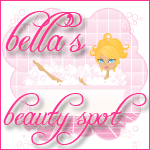 Good luck! Giveaway will end one week from today 3/30/2011. Open to the US only.
Disclosure: A press sample was sent to me for consideration from PR for the purpose of this review. All opinions are my own. No monetary compensation was received.